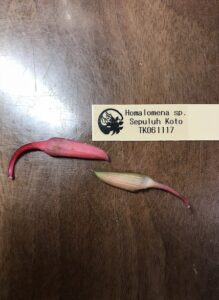 These seeds are wild seeds that were given to us by TK upon his return from Indonesia in 2017.
One is a normal seed and the other is from a mutant individual whose seeds turn black.
The normal seed was designated as "A" and the mutant seed was designated as "B." We managed and raised the mutant seed as "B."
Later, some variegated individuals emerged from "B", and the mutant with black seeds was also inherited.
This photo shows a plant grown from a "B" seed that continued to produce black seeds as a result of further fruiting.